Roughly 95 percent of the population had access to high-speed internet in OECD countries last year
In a technologically connected world, some countries are emerging at the head of the pack, new research from the Organization for Economic Co-operation and Development finds.
That matters economically because broader access means there's greater opportunity for work, shopping and entertainment to shift to digital platforms. The fresh data leads our economic research wrap, which is entirely focused on opportunity this week: whether it's in education, the labor market or business.
Check back every Tuesday for our latest summary of new and interesting studies.
The connected 12
About 95 percent of the population had access to high-speed internet in OECD countries in 2016, a recent report from the Paris-based organization shows. Twelve countries now have 100 percent penetration, up from nine a year ago. Machine-to-machine communications (think smart cars) are also becoming more widespread, and Sweden, New Zealand, Norway, Finland and the Netherlands are the leaders in that technology.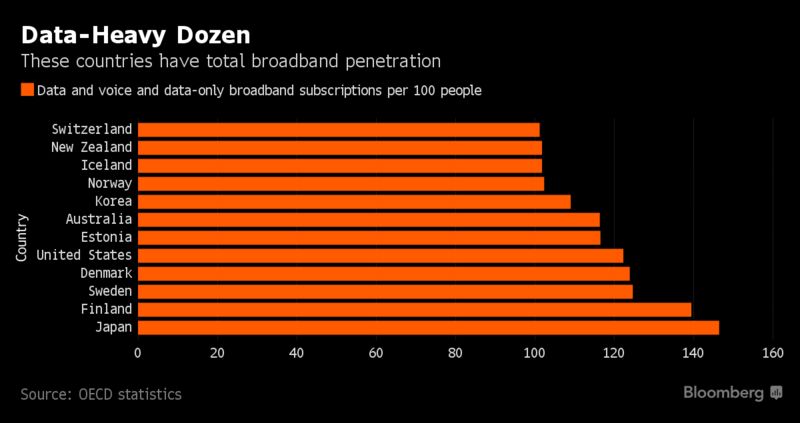 OECD broadband statistics update
Published Feb. 2, 2017
Available on the OECD website

The student loan divide
Students coming from lower-income families are more likely to struggle to repay their education loans. About 12 percent of students from families earning $15,000-$30,000 are not employed five years after leaving school, for instance, versus 8 percent of students from families earning $75,000- $100,000.
Part of the problem is that many lower-income kids are more likely to attend schools that have a poor track record when it comes to getting people good-paying jobs.
So what's the solution? The authors argue that schools should be held accountable for whether their attendees are able to pay back their student loans within five years of leaving school. By using that metric, there's scope to redirect students to higher-performing schools.
Measuring Loan Outcomes at Postsecondary Institutions: Cohort Repayment Rates as an Indicator of Student Success and Institutional Accountability
Published February 2017
Available at the NBER website

Braceros and native-worker opportunity
In 1964, the U.S. nixed agreements with Mexico in a push to protect American farm workers, excluding roughly half a million seasonally-employed Mexican laborers, or "braceros," from the workforce. In this study, the authors find that the policy did little to help U.S. laborers gain higher wages or more jobs.
By and large, the braceros weren't replaced by other workers at all. "We find instead that employers adjusted to exclusion," with large changes in technology adoption and crop production, according to the research.
Immigration Restrictions as Active Labor Market Policy: Evidence from the Mexican Bracero Exclusion
Published February 2017
Available at the NBER website
Credit availability and growth
Researchers find that in Italy bank credit is allocated less efficiently than in France and Germany. Over the last 15 years, Italian banks may have focused "on short-term investments, unlikely to have substantial future returns and associated with low firm productivity going forward," they write.
Banks credit and productivity growth
Published February 2017
Available on the European Central Bank website