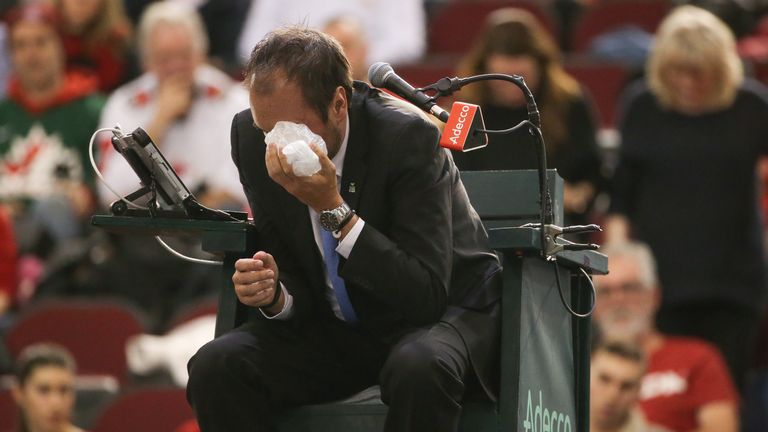 Great Britain are through to the Davis Cup quarter-finals after Denis Shapovalov of Canada was defaulted in the deciding rubber on Sunday.
In a very bizarre end to an exciting tie in Ottawa, the 17-year-old Shapovalov accidentally hit umpire Arnaud Gabas with the ball, meaning he had to be defaulted by tie referee Brian Earley.
Already two sets up, Kyle Edmund broke for 2-1 in set three when Shapovalov hit the ball out, and the youngster smashed the ball in anger towards the stands, only for it to fly straight into the face of Gabas.
Shapovalov, who won Junior Wimbledon last year, was distraught after the incident, while Gabas was given ice and TV pictures showed his left eye badly swollen.
Great Britain therefore triumphed 3-2, Canada's Vasek Pospisil having earlier produced a gutsy display, beating Dan Evans 7-6 6-4 3-6 7-6 to level the tie at 2-2 and claim his second singles win of the weekend.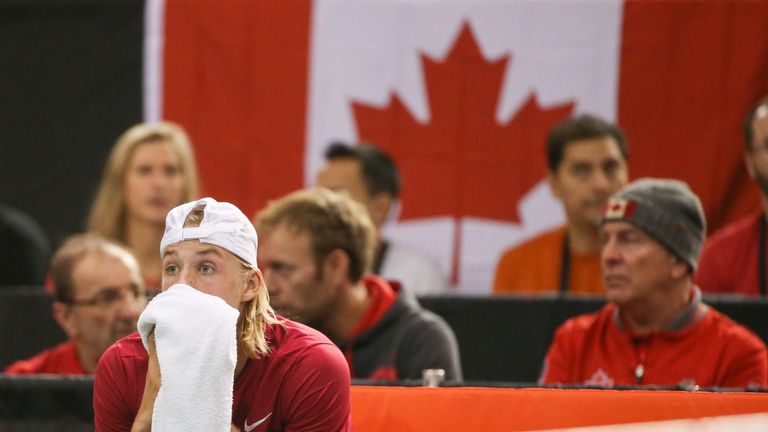 The Great Britain side will next face France in the last eight on April 7-9.
An emotional Shapovalov, who was playing in only his second Davis Cup tie, said afterwards: "I went back and spoke to the umpire afterwards and apologised directly to him.
"Luckily he was OK but obviously it's unacceptable behaviour from me.
"I feel incredibly ashamed and embarrassed and I just feel awful for letting my team down, for letting my country down, for acting in a way that I would never want to act.
"I can promise that's the last time I will do anything like that. I'm going to learn from this and try to move past it."
The International Tennis Federation announced that Gabas had bruising and swelling to his left eye, and had been sent to Ottawa General Hospital for a precautionary evaluation.
Prior to the default, Great Britain were on course to advance via more conventional means, Edmund having claimed the first two sets 6-3 6-4.
"It was a strange way to finish," said Edmund. "I've never been part of something like that."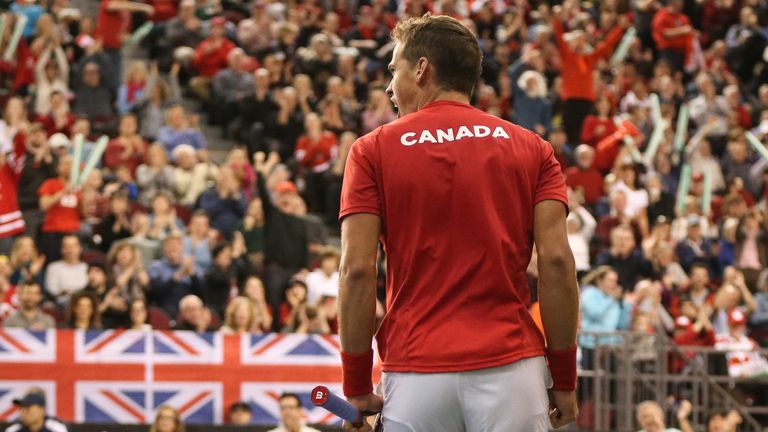 And Great Britain captain Leon Smith added: "It's a shame. I think we're all pretty surprised at what just happened.
"I thought Kyle was terrific and it would have been nice for him to get over the line with a straight-sets win, which it was heading for, and a great performance.
"To finish like that, I feel sorry for Denis. He's learned a harsh lesson today.
"It's a shame for the fans that were there, but he'll learn I'm sure.
"The most important thing is the umpire's OK because that can be really, really dangerous when a ball's travelling at that speed from a pretty short distance. It's gone straight in his eye."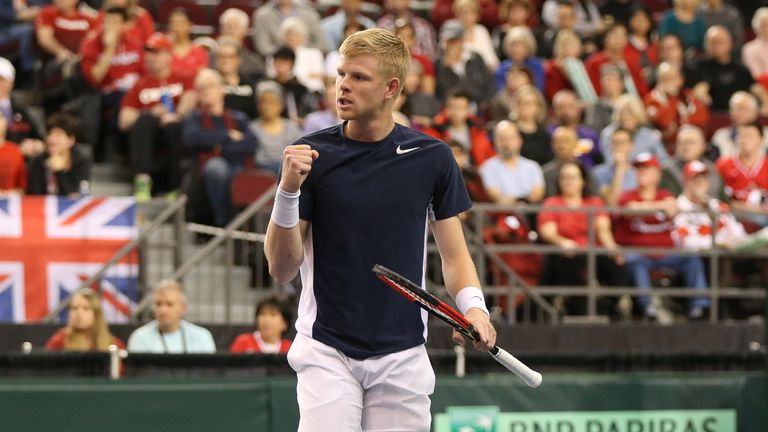 Pospisil tweeted: "No one is nicer or carries themselves better for a 17 y/o than Shapovalov.
"Everyone can see that today was an accident. Can happen to anyone."
Pospisil enjoyed a great weekend in a losing cause and had earlier sent down 25 aces and 36 forehand winners as he repelled an Evans fightback to win in four sets and set up the deciding rubber.
|Sky Sports