Brussels explosions: What we know about airport and metro attacks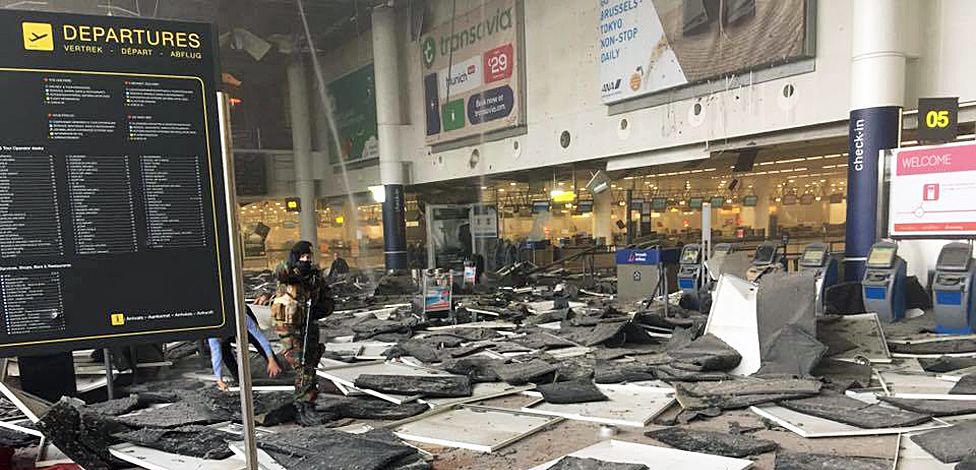 More than 30 people have been killed and dozens more injured in explosions at Brussels airport and a metro station.
Twin blasts struck the main terminal of Zaventem international airport, in the north-east of the city.
Another explosion hit the Maelbeek metro station in the city centre, close to several European Union institutions.
The so-called Islamic State group has said it was behind the attacks.
They come four days after the capture in Brussels of Salah Abdeslam, the main suspect in the jihadist attacks in Paris on 13 November 2015.
The airport attack
Two explosions, moments apart, tore through the check-in area of Zaventem airport at about 08:00 local time (07:00 GMT) on Tuesday.
An eyewitness reported hearing gunshots and shouts in Arabic just before the explosions.
The Belgian federal prosecutor said one of the blasts was "likely" to have been a suicide bomb.
One witness said people ran from the site of the first blast, only to be caught in the second, near the main entrance.
The metro station attack
Just over an hour later, a further blast happened at the Maelbeek metro station in the city centre, close to several EU institutions.
A three-carriage train was just leaving the station in the direction of Arts-Loi, the next stop a short distance away, when the blast happened, Brussels transport company STIB told broadcaster RTBF.
The bomb was apparently detonated in the middle carriage, which was running along the platform at the time. The driver immediately halted the train and evacuated the first and last carriages.
How many people have been killed?
More than 30 people have died in the three explosions but the total death toll remains unconfirmed.
The Belgian health minister said 11 were killed and 81 injured in the airport blasts.
The metro explosion killed at least 20 people, the Brussels mayor told local media.
At least a further 100 people have been injured, 17 of them seriously.
Earlier, Belgian Prime Minister Charles Michel told a news conference "there aremany dead, many injured".
"What we feared, has happened," he added. "We realise we face a tragic moment. We have to be calm and show solidarity."
Who carried out the attacks?
The so-called Islamic State group said it was behind the attacks.
In a statement released on Tuesday afternoon via the IS-linked Amaq news agency, the group described the attacks as "a series of bombings with explosive belts and devices".
Belgian media published a CCTV image of three men said to be suspected of being behind the airport attacks.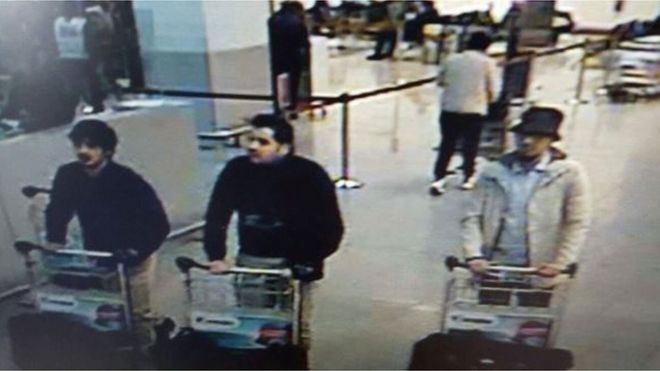 The two men dressed in black are believed to have blown themselves up. They both appear to be wearing a single black glove on their left hands, which some reports suggest could have been in order to conceal detonators.
Police in Brussels issued a wanted notice for the third man, pictured wearing a hat, and urged the public to contact them if they recognised him.
The investigation
The anti-terror section of Belgium's federal prosecutor's office has opened a criminal investigation.
In a statement, the prosecutor's office said police had conducted raids in the Schaerbeek neighbourhood of Brussels and found a nail bomb, chemical products and an Islamic State flag.
Earlier on Tuesday, police were reported to have found an unexploded suicide vest at Brussels airport as well as a Kalashnikov assault rifle.
Airport security under the spotlight again
Is Brussels safe?
Belgium raised its terror threat to its highest level following Tuesday's attacks.
The national crisis centre urged people to "stay where you are" and instructed schools to keep children inside. This was eased at 16:00 local time.
Why has Belgium's capital been attacked?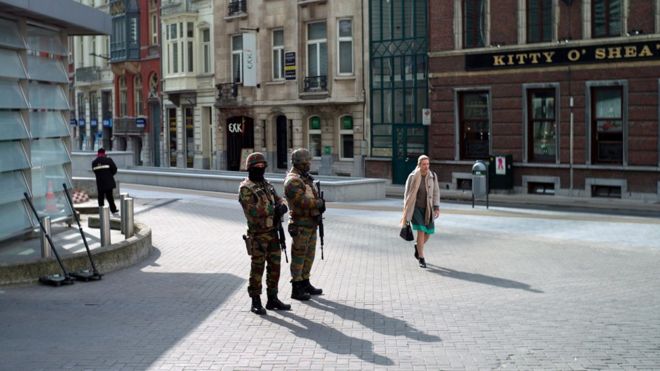 The British government is warning Britons against all but essential travel to Brussels in the wake of the bomb attacks.
The UK Foreign and Commonwealth Office (FCO) updated its travel advice for Britons in Brussels, urging them to "stay away from crowded places and avoid public transport at this time".
The FCO has set up a helpline for Britons concerned for the safety of a friend or relative in Belgium. The phone number is
0207 008 0000.
A spokesman for travel organisation Abta said British holidaymakers in Brussels should follow the instructions of the Belgian authorities, while those due to travel should contact their transport provider.
UK Foreign Office warns against travel to Brussels
Is transport still running?
Brussels Zaventem airport closed after the attacks, with all flights diverted elsewhere. Officials say it will remain closed on Wednesday.
The city's entire metro rail system was shut down after the explosion at Maelbeek station. Some tram and bus services were also halted but public transport was restarted at 16:00 local time, with some metro lines reopening.
Eurostar suspended its high-speed rail service to and from Brussels initially but a limited service is now running.
Why has Brussels been attacked?
Belgium's Interior Minister Jan Jambon said on Monday that there was a threat from revenge attacks after the capture of Salah Abdeslam.
Abdeslam, a suspect in last year's Paris attacks, was wounded and arrested in a police raid on an apartment in the Molenbeek suburb of Brussels last week.
The Belgian-born French national is said to be co-operating with police and is fighting extradition to France.
Mr Jambon told Belgian radio: "We know that stopping one cell can… push others into action. We are aware of it in this case."
Is Molenbeek a hotbed of extremism?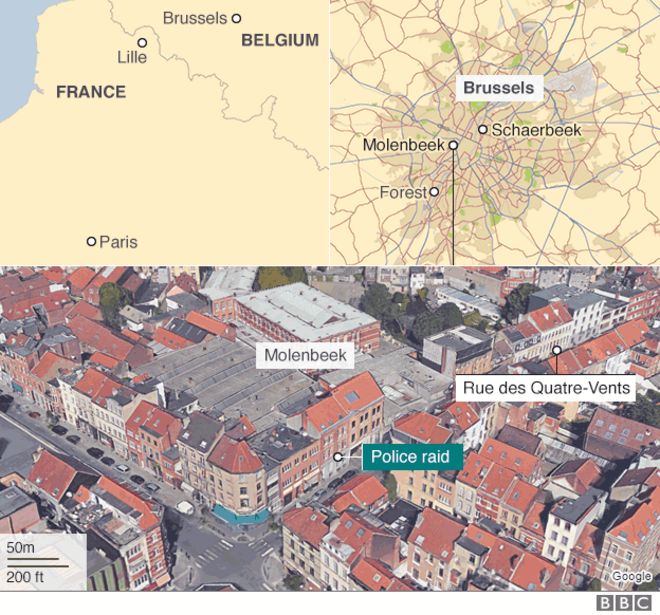 How have other countries reacted?
Security measures have been stepped up in western European countries following the attacks.
French Interior Minister Bernard Cazeneuve said an extra 1,600 police officers had been deployed to train stations, airports and border crossings. France has been on alert since 130 people were killed in attacks in Paris last November.
British airports and transport hubs are also increasing security as a precaution and Prime Minister David Cameron is convening the UK government's Cobra emergency committee, which brings together ministers, police and intelligence officers.
The UK's official terrorist threat level remains unchanged at "severe," the second-highest level on a five-point scale, meaning an attack is highly likely.
German authorities have stepped up security measures at airports, train stations and the borders with Belgium, France, the Netherlands and Luxembourg, a spokesman for the federal police said.
UK police step up patrols after Brussels attacks
Source: http://www.bbc.com/news/world-europe-35869985