Asia's top two performing currencies so far this year are unlikely to enjoy prolonged gains, with the new U.S. administration's increasing turn toward protectionism set to hit the economies of South Korea and Taiwan, analysts warn.
Rhetoric from U.S. President Donald Trump's administration blasting the alleged manipulation of exchange rates abroad has helped Taiwan's dollar and the South Korean won advance 4.3 percent and 6.2 percent against the dollar since the year started. The thinking: these two open-market U.S. allies would scale back intervention aimed at slowing gains in their currencies.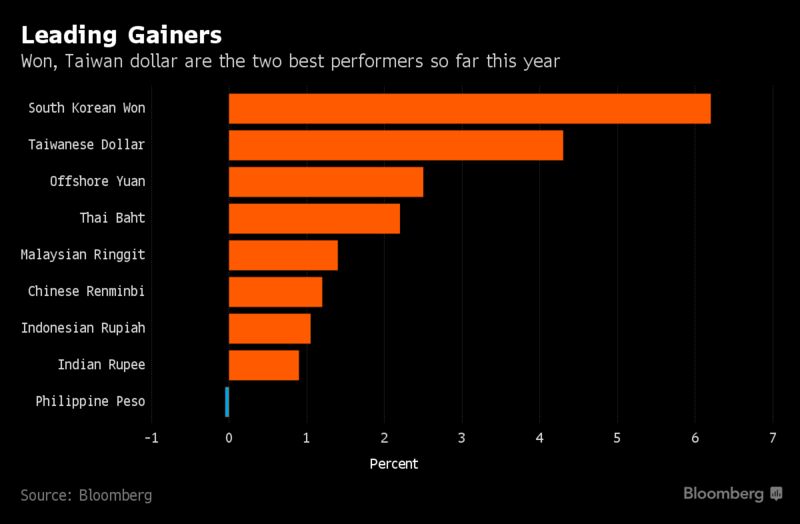 Traders are underestimating the risks in Asia from Trump's protectionism, Goldman Sachs Asset Management and Societe Generale SA said in recent reports. With their economies so reliant on exports — at the equivalent of 60 percent gross domestic product for Taiwan, and about half for South Korea — the two economies are particularly vulnerable.
"They could be targeted by the new administration," Rajeev De Mello, who oversees about $11.7 billion as head of Asian fixed income in Singapore at Schroder Investment Management Ltd. said of South Korea and Taiwan. While De Mello has long positions on both currencies, he said "I'm a bit careful" given the looming risks.
As major suppliers for Chinese manufacturers, South Korea and Taiwan could become collateral damage in any trade war between the U.S. and China, the nation singled out for criticism by Trump on the campaign trail last year.
Along with China, South Korea and Taiwan were listed in the U.S. Treasury Department's currency watch list in October, given their large current-account surpluses. Taiwan's current-account surplus was projected to reach more than 14 percent of GDP in 2016, the most in the region after Singapore and Thailand, based on Bloomberg surveys of economists. Korea's accounts for about 7 percent, the nation's central bank said.The won was at 1,137.48 per dollar as of 11:21 a.m. in Seoul on Monday, and Taiwan's dollar was at NT$30.935. By year-end, the won will weaken to 1,250 and Taiwan's currency to NT$33 per dollar, said Masakatsu Fukaya, a Tokyo-based emerging-markets trader at Mizuho Bank Ltd.
The likely declines ironically would be what Trump's team wouldn't want as depreciation makes their products cheaper and more competitive in global trade.
Along with external factors including the Federal Reserve's rate path, should the U.S. exit or renegotiate a free trade agreement with South Korea, or impose across-the-board tariffs, Nomura Holdings Inc. sees the won potentially depreciating to as low as 1,290 per dollar by end-December. That would be a slide of about 12 percent from current levels.
"We would expect the U.S. to intensify its monitoring of Korean won movements and see a risk that South Korea, in addition to China, is declared a currency manipulator," Young Sun Kwon, an economist in Hong Kong at Nomura, wrote in a Jan. 27 report.
|Bloomberg Market